What is the ABC Program?
The Accredited Bosch Contractor (ABC) program is an elite program where members can earn rewards and gain access to exclusive benefits for installing Bosch HVAC equipment. These rewards include an additional one year warranty (*on registered and eligible products), priority support, lead generation, access to our exclusive Facebook group and more.


Where can I join?
You can apply online at www.boschprohvac.com by following these simple steps:
Step 1: Go to www.boschprohvac.com
Step 2: Find the Account Tools tile on the bottom left corner of the page and click on "Sign-Up, it's FREE!"
Step 3: Select the account type – HVAC Contractor
Step 6: Under HVAC Contractor, Select Not Listed
Step 7: Select YES if you are authorized to sign agreements on behalf of the company
Step 8: Fill out the required information
Step 9: At the bottom of the page you will see " Are you Applying for the ABC Program?" select YES.
Step 10: You request will be processed and you should receive your approval within 3-5 business days via email.




What do I need to do as an Accredited Bosch Contractor?
Maintain legal licensing to install and/or service products in your area
Register all installations via the www.boschprohvac.com website within 30 working days
Maintain professionalism, excellence and quality of work
Contractor must have $1,000,000.000 in liability insurance and be able to provide Bosch a copy if requested
Respond to all sales leads from the Bosch Dealer Locator within one business day
Contractor must support their installation for 1 year



How do I redeem rewards?
Step 1: Go to www.boschprohvac.com and sign into your account
Step 2: At the top of the page select "ABC PROGRAM"
Step 3: On the left side there is a menu select "redeem your points"
Step 4: Select one of the three options PowerTools (provided by CPO), Gift-card (provided by winbrook), Local Advertising
How does it work?
If ordering with CPO: CPO will send an email for a coupon code directly to your email associated with your account. From there you can use the coupon code to order the Power tool of your choosing
If ordering a giftcard: Gift card orders are filled through our agency partner Winbrook. Once you select a value for a giftcard, you will receive an email with a code to pick what giftcard you want
For Local Advertising, we handle those requests internally please note to be reimbursed through Local Advertising we have to approve the design in accordance with Bosch Style Guidelines. Please be aware that this may take between 1-2 weeks


Why did my status move down a level?

(Platinum to Gold / Gold to Silver)
Each level within the program is qualified by the points you receive for installing Bosch Products. Your points you received from last year will qualify you for this year. Example: if you only had 400 points for 2017, you will be a Silver member but if you install 1600 points in 2018, you will be a Platinum member for 2019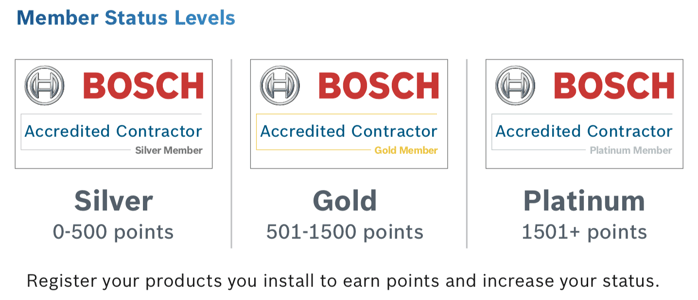 I am not receiving points for my registrations?
First please make sure that you a registering your products within 30 days of installation, if you are not doing this, you will not receive points for your registration
If you have installed within the 30 days, it is most likely due to the fact that you are not qualified for that product on your account. In order to update this please fill out the customer service form or contact customer service at 1-800-283-3787 to update
How do I convert my account to an ABC account?
Step 1: Login to your existing account at www.boschprohvac.com
Step 2: Once you are logged in, at the very top of the page you will see a red box that says "Join our ABC Program" select this box
Step 3: This will direct you to a page with an overview of the program.. At the bottom of the page select start here
Step 4: You will be redirected to an application page, here you will need to review the terms and conditions of becoming a member of the Accredited Bosch Contractor Program

Step 5: Submit you application for approval